This item is currently out of stock. We will be able to ship it again within the next 14 days. You can still pre-order it right now. 
The "Unique Love" necklace is characterized by its unique look! Because the filled heart shape is made of genuine mother of pearl, which means that every heart looks unique. Just as unique as love is our "Unique Love" necklace as well. Small scratches or cracks are just as inevitable with real mother of pearl as the ups and downs of life. Each "Unique Love" necklace is as unique and special as the wearer herself.

The necklace is made of high-quality 316L stainless steel, which means that this necklace is waterproof and does not rub off over long periods of time. Thus, you can enjoy the long-term shine of the "Unique Love" necklace. The necklace is 100% nickel-free and therefore particularly skin-friendly.

The "Unique Love" necklace is adjustable in size and is therefore perfect for a modern layering look.

The "Unique Love" necklace will be shipped in an individually made gift box, so be curious about what to expect when unpacking!

Order your "Unique Love" necklace now!
Free express shipping on all orders over 85$! Shipping costs for orders under 85$ are 19.97$.
We are a German-based Start-Up so our jewelry is assembled in and shipped from Germany.
All shipments are insured and shipped with a tracking number, so you can always follow them.
AVERAGE SHIPPING TIMES:
United States 2-3 business days
Canada 5-9 business days
Australia 9-14 business days
New Zealand 7-11 business days
Singapore 5-10 business days
Japan 5-10 business days
Brazil 14-20 business days
Mexico 14-20 business days
Hong Kong 6-10 business days
Israel 14-20 business days
Russia 8-18 business days
South Korea 8-12 business days
Turkey 9-14 business days
Some parcels may be stopped by customs, which can lead to a shipping time longer than the averages stated above. We can not control this and are not responsible for these delays. 
Returns within 14 days after receipt of goods are possible.
Import Taxes & Duties
Your order may be subject to import duties and taxes. Import duties and taxes are due once a shipment reaches your country.
Import taxes & duties are usually around 20% of the purchase price of the item. Please be aware, that this is just a general guideline and may vary depending on the country you are ordering from.
You should contact your customs office for specific information.
Aphrodite cannot control and is not responsible for any duties/taxes applied to your package. You will be responsible for paying additional charges for customs clearance.
Customs policies vary widely from country to country, which makes it impossible for us to give accurate information. Please contact your local customs office for further information.
On rare occasions, customs agents may delay the delivery of some packages.
Customer Reviews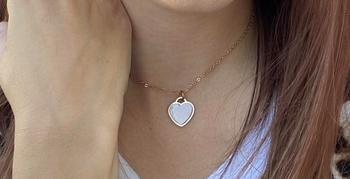 09/19/2020
Perfect For Any Occasion
I absolutely love that this necklace goes with any outfit and I can wear it for any occasion. I have sensitive skin and this does not irritate or bother me in any way. It is comfortable and I wear this piece almost daily.
Ashley S.
United States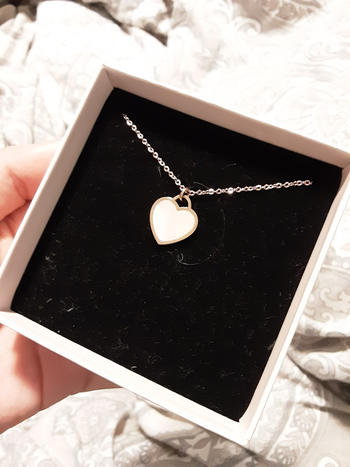 09/10/2020
ELEGANT AND PERFECT FOR EVERY OCCASION
this nackles is amazing ! You can wear for all occasion. Its elegant and make me pretty all the times. The chain has a good quality and it doesn't get ruined by the water.
ROBERTA C.
Canada
09/21/2020
Unique
This came with my ambassador starter kit. There is a sense of uniqueness to it as the heart is made from a pearl and every necklace is different. I love it so much! Simple yet elegant
Wenny
United States
09/17/2020
One of my favorites
I love how elegant this necklace is. Beautiful rose gold with rose quartz is perfect for both everyday and special occasions.
KatieMay P.
United States
09/15/2020
Beautiful & elegant
I love how the pink mother of pearl compliments the rose gold!
Chrissy
United States