This item is currently out of stock. We will be able to ship it again within the next 14 days. You can still pre-order it right now. 
The "Love Letter" bracelet is your personal love letter that will always remind you of the heartwarming feeling of love. Made of stainless steel, the skin-friendly bracelet gives a feeling of high-quality. The delicate design in combination with the lovely message makes every woman's heart beat faster and is, therefore, a must-have.

All bracelets are shipped in individually made gift boxes, so be curious about what to expect when you unpack!

Order your "Love Letter" bracelet now!


Product details:
Material: 316L stainless steel
Colors: rose gold, silver, gold
Length: size adjustable 15-20cm
Free express shipping on all orders over 85$! Shipping costs for orders under 85$ are 19.97$.
We are a German-based Start-Up so our jewelry is assembled in and shipped from Germany.
All shipments are insured and shipped with a tracking number, so you can always follow them.
AVERAGE SHIPPING TIMES:
United States 2-3 business days
Canada 5-9 business days
Australia 9-14 business days
New Zealand 7-11 business days
Singapore 5-10 business days
Japan 5-10 business days
Brazil 14-20 business days
Mexico 14-20 business days
Hong Kong 6-10 business days
Israel 14-20 business days
Russia 8-18 business days
South Korea 8-12 business days
Turkey 9-14 business days
Some parcels may be stopped by customs, which can lead to a shipping time longer than the averages stated above. We can not control this and are not responsible for these delays. 
Returns within 14 days after receipt of goods are possible.
Import Taxes & Duties
Your order may be subject to import duties and taxes. Import duties and taxes are due once a shipment reaches your country.
Import taxes & duties are usually around 20% of the purchase price of the item. Please be aware, that this is just a general guideline and may vary depending on the country you are ordering from.
You should contact your customs office for specific information.
Aphrodite cannot control and is not responsible for any duties/taxes applied to your package. You will be responsible for paying additional charges for customs clearance.
Customs policies vary widely from country to country, which makes it impossible for us to give accurate information. Please contact your local customs office for further information.
On rare occasions, customs agents may delay the delivery of some packages.
Customer Reviews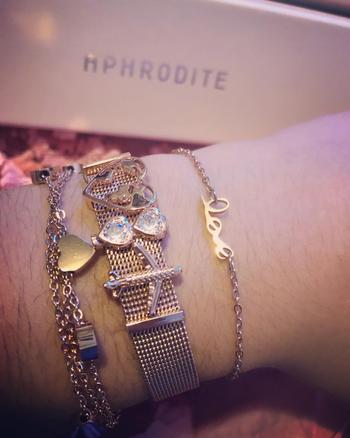 09/10/2020
Small love
I really like this bracelet, the word love is small and the script is cute as well.
Micayla M.
United States
09/21/2020
Elegant
This piece compliments the other pieces I got from Aphrodite like the mesh bracelet and endless love bracelet very well. It simple yet adds a sense of elegance to the overall look.
Wenny
United States
09/15/2020
Dainty & Cute
cute and dainty, love the script lettering
Chrissy
United States
09/10/2020
Everyone loves it
Since the package arrived Inwas so excited to wear it, it was really cute and simple, my sister also loved it, so I ended up borrowing it to her and it has not come back to me since then hahahaah, she also loved it. So cute you will have to buy more for your friends.
Regina C.
Mexico
09/10/2020
Lovely!
Such a pretty & unique bracelet. It definitely stands out & I usually wear it with my "Endless Love" bracelet. It's a lovely piece. "Love Letter"-Bracelet
Carla .
United States